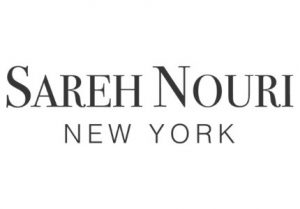 From heavenly lace details that cascade down ball gown silhouettes to chic and simple crepe fabric that effortlessly drapes along the natural curvature of the body, these wedding dresses evoke timeless romance with ease. Our latest collection still offers the impeccable fit and sophisticated structuring that Sareh Nouri is known for, but heightens the allure of vintage-inspired silhouettes through modern sexy details like plunging V-necklines, thigh high slits and daring open backs. And don't worry—we offer gowns for all shapes and sizes, from petite to plus size. Make your bridal dreams come true with a gown from Sareh Nouri!
From a young age, Sareh Nouri showed a penchant for all things bridal, taking fashion inspiration in the classic elegance of Hollywood starlets like Grace Kelly, Audrey Hepburn, and Lauren Bacall – dreaming of what she would one day look like as a bride. Coming to the USA from Tehran, Iran at the age of 9, she was struck by the contrast and harmony between these two vibrant cultures, and this convergence of artistic styles had a lasting impact on her inner creative life. 
Her early wonder and passion for bridal design never truly faded, but it wasn't until Sareh began searching for her own wedding gown that her journey into the world of wedding dress design began to materialize. Unable to find a wedding dress on the market that felt like "the one," Sareh decided to take matters into her own hands, and designed her dream wedding dress – one that was all at once ethereal, sophisticated, feminine, and classic. Highly influenced by beauty and with great attention to detail, Sareh finally found "the one" – one she created for herself. 
Sareh's passion for wedding dress design didn't stop after she walked down the aisle. After embarking on a journey through many different roles in the bridal industry and working one-on-one with brides, she was inspired to create a bridal line that would make every new bride feel as confident, elegant, and timeless as she felt when she walked down the aisle in her custom gown. Her newfound experience in the bridal world paired with her successful background in graphic design and traditional Persian art led her to create Sareh Nouri, her very own bridal label.
Working with only the finest imported Italian silk and French lace, Sareh and her design team have created couture quality wedding dresses as well as an exceptional model of bridal design practices. Throughout her career, Sareh has mastered the balance between delicacy and distinctiveness, all the while expressing an unparalleled depth of emotion within each one-of-a-kind bridal gown. All Sareh Nouri wedding dresses are handmade with love and manufactured exclusively in the USA, ensuring that the designs aren't just a dress, but a work of art in and of themselves. With unparalleled passion, keen attention to detail, and the finest fabrics, Sareh Nouri wedding dress designs are unmatched in their quality and creativity. Taking inspiration from the glamorous Hollywood starlets she was infatuated with as a little girl, Sareh's designs are at the intersection of contemporary and timeless.