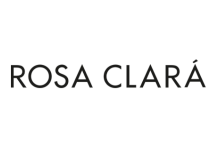 Rosa Clará founded her brand in 1995, when she opened her first store selling wedding dresses in Paseo de Gracia, Barcelona. This marked the beginning of an exciting story during which the Spanish fashion designer and entrepreneur changed the rules of bridal fashion for ever, delighting brides the world over with cutting-edge designs that celebrate individuality, romanticism and elegance.
Her innovative spirit and commitment to the highest-quality fabrics and production techniques, in each wedding dress that bears her signature, continue to be the hallmark of Rosa Clará today, now a world leader with upwards of 4,000 points of sale in over 80 countries.
Having defined its own style, in 2002 the firm began a new chapter via its first collaboration with an international designer: haute couture icon Christian Lacroix. This partnership, followed by other successful relationships with renowned designers, such as Karl Lagerfeld and Zuhair Murad, was a decisive leap forward for the firm.
With her own collection, Rosa Clará went on to launch each edition of the Valmont Barcelona Bridal Fashion Week, the leading international wedding fashion show, surprising attendees with dresses packed with creativity and magic, and introducing new trends designed to make the dreams of every bride come true.