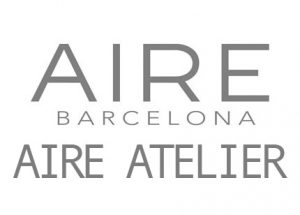 Aire Atelier haute couture wedding dresses stand out for their clean lines and pink color. On-trend crepe dresses, plus sophisticated removable organza sleeves or pink opaline buttons.
Pink is the color chosen to give a fresh feel to the Aire Barcelona bridal look: it makes a difference in contemporary dresses in Amalfi fabric, playing with new volumes, pleats, and sensual slits in the skirts. This color certainly adds a touch of romanticism with spectacular pink wedding dresses! As with the French lace with raffia flowers stitched by hand on tulle or silk organza flowers complemented with asymmetrical bows.
Aire Atelier is committed to organic romanticism through fabrics such as French lace, floral designs and combining with subtle micro-beadwork, to make the bride's fabulous gown sparkle on her big day.

Aire Barcelona introduces pure craftsmanship into contemporary looks, with the application of eye-catching features such as hand-stitched raffia flowers and embroidered flowers on tulle on the backs of the dresses. Also turning heads are the captivating silk organza flowers, which are complemented by irregular lacing details and add a natural air to the bridal styles. And another awe-inspiring option offered by the Aire Barcelona haute couture wedding line are the detachable ruffle sleeves and the pink opaline jewel buttons; which add an extra touch of ethereal fantasy. Personality and sweetness in high fashion!
The Aire Atelier pink dresses, made in Amalfi fabric, are set off with voluminous and pleated skirts, some evoking the feel of a wide flowing trousers and others featuring a discreet and sensual slit. And so that the bride can play with her look and create different outfits depending on when her nuptials are being held: the wedding dress brand proposes adding haute couture overskirts with maximum volume and, in turn, luscious movement.
Other different proposals from Aire Atelier are midi-length wedding dresses, with a feminine tulle skirt, or trailing high-lows, for a chic and avant-garde look. These looks not only stand out because of their design, but also show off the bride's shoes: they showcase the importance of choosing the right accessories to achieve the perfectly put-together look.
This range also features asymmetric and square necklines, rejuvenating the season's outfits. And, for brides who want to delight with sophistication and utter elegance: Aire Atelier presents crepe layers with embroidery and micro-beadwork, matching the embroidery on the dresses. It is undoubtedly an excellent way to enhance versatility in wedding fashion, just as today's woman wants for her wedding.